Teacher education at the university of Zambia and teacher quality with specific reference to english language.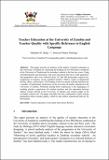 Authors
Madalitso K. Banja & Innocent Mutale Mulenga
Publisher
East African School of Higher Education Studies and Development
Abstract
This paper presents an analysis of the quality of teacher education at the University of Zambia by combining the findings of two PhD theses conducted at the University of Zambia and in secondary schools in the last two years. Using self-administered questionnaires and semi-structured interviews, both qualitative and quantitative data were collected from 191 and 200 participants respectively, comprising of students, newly qualified teachers (NQTs), heads of department (HoDs), deans, and lecturers. The findings in the two studies indicate that there are a number of institutional weaknesses in the provision of teacher education at the University of Zambia. Prominent among these weaknesses is the inadequacy of teaching practice experiences for student teachers and the mismatch between subject content offered at the University of Zambia and content taught at the secondary school level. The paper concludes that this combination of poor teacher preparation affects teacher quality, which in turn affects educational delivery by the teachers.
Keywords
Teacher education. Curriculum innovation. Reform.
Citation
Banja, M.K. & Mulenga, I. M (2019). Teacher Education at the University and Teacher Quality with specific reference to English Language. Makerere Journal of Higher Education, 10 (2) 171-190 ((ISSN: 1816-6822) DOI: http://dx.doi.org/10.4314/majohe.v10i2.13