Association of maternal factors and iron deficiency anaemia in pregnant women attending antenatal care at Chongwe rural health centre in Chongwe district.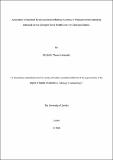 Authors
Nakanyika, Elizabeth Chewe
Abstract
Introduction Iron deficiency anaemia (IDA) is estimated to occur in (18%) of pregnant women in Africa despite universal supplementation programs being implemented since 2001, as recommended by the World Health Organisation. A lack of data on iron status and maternal factors associated with iron deficiency anaemia make it difficult to manage specific patients and prevent adverse outcomes. Therefore, this study aimed to determine the prevalence and maternal factors associated with IDA in women attending antenatal care in a rural setting in Chongwe, Lusaka. Methods: This cross-sectional study included 225 pregnant women visiting antenatal clinic at Chongwe Rural Health Centre in Chongwe District. Demographic data and information on maternal age, gestational age, educational status, socioeconomic status and clinical data were collected from all the subjects via a standard questionnaire. Complete blood count was performed, and Soluble Transferrin Receptor levels were measured to assess anaemia and iron status, respectively. Data was analysed using SPSS software version 23. Results: The prevalence of anaemia was (39.1%) 88/225 out of which (9.1%) 8/88 presented with iron deficiency. It was found that (78.13%) 50/64 were on Iron supplements and (44.68%) of them were anaemic but none were iron deficient. Abdominal pains (OR 5.11 [1.15-22.80], p > 0.032) and primary education relative to secondary education (OR 2.18 [1.24-3.84], p < 0.007) were the maternal factors with the highest odds for IDA and anaemia without iron deficiency, respectively Conclusion: Women not receiving iron supplementation were at a significant risk of presenting with IDA. Participants with IDA were likely to present with abdominal pain unlike other types of anaemia. A decrease in monocyte count was the only blood parameter that could potentially differentiate IDA from other types of anaemia. Therefore, pregnant women with the above features should be screened stringently to prevent and/or manage IDA.
Keywords
Pregnancy, iron deficiency --Zambia
Collections