Factors affecting the application of the text based integrated approach in the teaching of english in Zambia.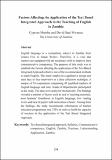 Publisher
Multidisciplinary Journal of Language and Social Sciences Education
Abstract
English language is a compulsory subject in Zambia from Grades Five to Grade Twelve. Therefore, it is vital that learners are equipped with the necessary skills to improve their communicative competence. The purpose of this study was to establish the factors affecting the application of the Text Based Integrated Approach which is one of the recommended methods to teach English. The study employed a qualitative design and used face to face interviews as a data collection technique. A sample of 54 respondents comprising 45 qualified teachers of English language and nine Heads of Departments participated in the study. The data were analyzed thematically. The findings revealed a number of factors such as lack of teaching materials, poor learners' foundation in English language, low reading levels and lack of pupils' self-motivation to learn. Arising from the findings, the study recommends reformation of teacher education programmes and CPDs in order to build the capacity of teachers in the application of the Text Based Integrated Approach
Keywords
English language--Study and teaching--Zambia.